AUDIO
Do you learn via audio?
Check out the "Simplify Your Small Business" podcast. Here, you'll learn quick tips in minutes to help your business grow. Discover expert insights on simple things you can do today to help bring in new customers, enjoy a competitive edge, boost sales, and much more! As an entrepreneur, you're busy. Now, you can get unique ideas and information to catapult your small business to the next level with these short segments (less than 15 minutes each)!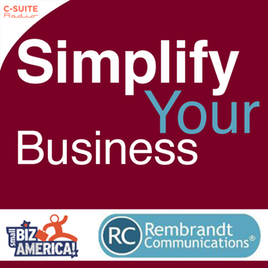 BOOKS​
Pulling in the Same Direction – A Management Guide for Aligning Sales & Marketing to Improve Results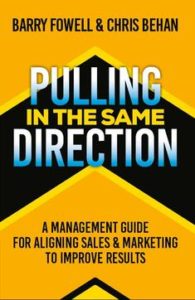 This is one of few books candidly discussing a historical divide between sales and marketing disciplines, while providing insights and techniques to address it.
Pulling in the Same Direction is a useful hands-on guide for those involved with business-to-business sales and marketing—helping you align Sales and Marketing for optimum results. This book outlines a systematic approach which will help you:
· Understand the true essence of the Sales and Marketing gap
· Learn how CRM tools improve or worsen this divide
· Break down walls between the disciplines to improve effectiveness
· Establish common ground using a shared sales process
· Align Sales and Marketing to ensure everyone is Pulling in the Same Direction
To help you use these insights and principles, Pulling in the Same Direction takes you through a sample sales process. This provides you with hands-on, detailed applications at each phase in the process, to help you successfully implement the book's principles within your organization.
The principles in this book result from the authors' real-world applications— producing sales successes in aerospace, automotive, power generation and other industries. The authors developed this book to share their experience and help you get Marketing and Sales Pulling in the Same Direction.
About the Authors…
Chris Behan has 20+ years of experience developing successful marketing strategies and programs that effectively build brands and drive sales within the automotive, software, electronics, aerospace, power generation, health care and other industries.
​Barry Fowell is a highly-seasoned sales consultant who spent 30+ years formulating successful multi-million dollar sales strategies and managing sales teams across three continents over a broad span of industries—ranging from aerospace to automotive to software to power generation and more.

"Dance Class Etiquette – Secrets for Success From One Dancer to Another"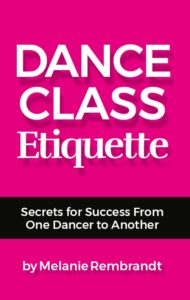 Did you know that there are "unwritten" rules
when you step into a dance studio?

Once only known to experienced dancers, this simple guide gives you the information and helpful tips necessary to enter the world of dance, avoid unnecessary embarrassment and become a successful dancer!
____________________________________________________
SECRETS INSIDE WAITING FOR YOU TO DISCOVER:
What you should never do when you walk into a dance studio
Questions to ask when looking for a new class
The key things to wear and take with you (on a limited budget)
Where to stand, what to avoid doing at all cost and much more!
______________________________________________________
What the pros are saying about this book:
"This etiquette is key to getting a dance job, and it comes from what dancers learn in class. Melanie shares her secrets so that other dancers can feel comfortable at the studio and be more successful."
Christy Curtis Buss, Lakers' Family Member, Celebrity Choreographer,
Actress, Model, and The Studio Art of Dance Business Owner
"You will save yourself many uncomfortable moments learning this information… these tasty tidbits eliminate the trial-and-error period that so many hopeful dancers experience. This is truly a treasure chest of instant information!"
Jim Taylor, Professional Dancer, Choreographer, Teacher, Tap Dance Columnist, and Tap Dance Historian
ABOUT THE AUTHOR:

Melanie Rembrandt is a seasoned, professional dancer who has performed in hundreds of musical theater, film and television shows.
In this book, she shares her insider, dance-class secrets to help others succeed in the world of dance.
"Simple Publicity – How to do your own public relations to boost sales, awareness and credibility fast… without spending a lot of money!" By Melanie Rembrandt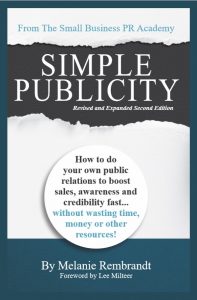 DON'T READ THIS BOOK unless you want to boost sales, awareness and credibility for your business right away.
How to do your own public relations to boost sales, awareness and credibility!
By communicating the right messages about your products and services to targeted media-members and customers at the right time and place (public relations or PR), you can reach your goals fast and cost-effectively. And now, you can take advantage of  "the power of the press" on your own without spending a fortune!
This book gives you the inside secrets and a simple, step-by-step guide to build buzz and get noticed by the media. In a matter of hours, you'll learn the PR skills necessary to take advantage of free publicity and gain third-party credibility you simply cannot obtain any other way.
If you want to take your business to the next level of success quickly and easily, read this book!
_________________________________________
SECRETS INSIDE WAITING FOR YOU TO DISCOVER:
The #1 way to get media attention (Hint… It's really easy!)
What never to say or do when talking to a reporter and why
The top 3 items you need to get the PR results you want – fast!
The top 4 PR myths – " Exposed!
What to avoid wearing during a television interview… or else!
How to get top reporters to contact you now… and much more!
_________________________________________
BUZZ ABOUT THIS BOOK
"If you are starting a business and want to build credibility and bring in new sales fast using the power of publicity, check out this book. In a matter of hours, you'll know how to contact the media to get press coverage, give great interviews, and create press-releases and media kits, and much more!"
Cynthia Good, CEO, Editor PINK®
"Entrepreneurs are challenged with time, energy and focus. They are busy running their businesses, and they need help with their PR and SEO efforts and guidance on how to do it efficiently. Finally, here's a simple guide on how to do your own publicity! Melanie Rembrandt has condensed her extensive experience and success in the field of public relations into an easy, step-by-step approach anyone can follow."
David Wolf, SmallBiz America Network"I love books with action plans. Rembrandt's book is full of them! She shares practical steps and actions that you can take even without a big, fancy budget. Loved all the little in-between stuff that nobody else writes about but that's so critical to succeeding in any PR effort. Get Rembrandt's book, and get known!"
Rich Sloan, StartupNation® Co-founder and Chief Startupologist"The information in this book helped me get noticed by key media-members, increase my income and catapult my career success! Veteran publicist and SEO copywriter Melanie Rembrandt reveals her PR secrets in a simple format that's affordable and easy-to-read. If you want to make more money and take your business to the next level, buy this book."Tara-Nicholle Nelson, Esq., REThink Real Estate Founder and Chief Visionary and spokesperson for Trulia®.
ABOUT THE AUTHOR:
Melanie Rembrandt, author of "Simple Publicity"
Melanie Rembrandt is one of the country's top, small-business, public-relations experts and the founder of Rembrandt Communications®, LLC, www.rembrandtwrites.com.
As a SEO copywriter, PR consultant with 20-plus years of experience, an award-winning writer with hundreds of published works to her credit, and the author of  "Secrets of Becoming a Publicist," Melanie has an excellent, track record for helping entrepreneurs get the targeted, national media-attention they need to boost awareness, credibility and sales fast.
A magna cum laude graduate of the prestigious UCLA School of Theater, Film and Television, Melanie is the PR expert for StartupNation®, SmallBiz America®, and PINK Magazine®. She also provides training-presentations to organizations nationwide and valuable tips and information via her products, services and newsletter at www.rembrandtwrites.com.
NEWSLETTERS
​Do you need quick tips to boost sales for your business and books?
Check out tips from our expert authors including the following:
Are you an entrepreneur trying to build buzz with publicity on your own? Check out this monthly newsletter from PR and SEO expert, Melanie Rembrandt.
Each month, you'll receive quick tips on how to get noticed by the media, SEO copywriting tips, inspiration, and more.
Visit www.rembrandtwrites.com to get your free eReports and valuable information now.